PUBG MOBILE APK +OBB DATA: FREE DOWNLOAD, INSTALL, PLAY, TIPS & TRICKS, SETTINGS, AND MORE
Nowadays, everyone is talking about the free-to-play battle royal game PlayerUnknown's Battleground aka PUBG.  The Bluehole Studio has done a great job by converting the PC experience of the game into mobile. They joined hands with Tencent to release PUBG mobile version on Google Play Store and Apple App Store for free. So, you can download PUBG mobile free from your respected stores. So, are you excited to play PUBG mobile on your Android or iOS device? Check out the following procedure to download latest apk of PUBG Mobile.
Before heading to the process to install PUBG on your mobile, you should make it sure that your Android and or iOS have the capacity tosupport PUBG Mobile Apk. If you don't have any idea about the PUBG Mobile requirements, then here's the information.
PUBG Mobile Requirements
Whether you want to play PUBG mobile on Android or iPhone, here are some necessities of PUBG mobile.
PUBG Mobile Android System Requirements 
The PUBG mobile is compatible with more than 500 Android devices. Make sure that your Android device has 2GB of RAM and running 5.1.1 lollipop or later version.
PUBG Mobile iOS System Requirements 
If you have iPhone and want to play PUBG on your iOS device, then you need iPhone 5S and above version running iOS 9.0,10, 11,12, 13 or later. Well, you may get the lag issue on your iPhone 5S. But, it will run smoothly on 5S following devices.
PUBG Mobile Maps
If you are new on this battle royal games then you should also know about four PUBG mobile maps names so that you will be ready to play with your friends on your favourite map. There is a total of four maps available in PUBG Mobile-Erangel, Miramar, Sanhok, and newly added Vikendi snow map.
How to Download PUBG Mobile APK Android or iPhone
You can free download PUBG mobile APK from Google Play Store for Android and App Store for iOS devices. There are three different login options available while playing PUBG mobile- As Guest, use Facebook, or Twitter. It will help you to keep your PUBG mobile record sync whenever you play PUBG APK form different smartphone. So, here can find every Apk of PUBG Mobile inclusing latest betas.
Download Latest Update from Google Play Store.
PUBG Mobile 0.14.5 APK (Chinese Lightspeed)
PUBG Mobile 0.13.5 Chinese New Year APK
PUBG Mobile 0.11 APK (Zombie Mode)
How To Install PUBG Mobile APK on Android and iPhone
Step #1: Once you have downloaded the latest PUBG Mobile APK file from the above link, you need to go to the settings, and then go to Security.
Step #2: Once you tap on security, scroll down you will find unknown sources just tick mark that option.
Step #3: Now go to Downloads and tap on PUBG Mobile APK version and click on install and then follow the instructions as asked to enjoy the game on your smartphone.
How to Play PUBG Mobile Cross-player Multiplayer
If you want to know you can play PUBG mobile cross multiplayer or not after installing PUBG APK, then let me tell you that you can play PUBG mobile in cross-player multiplayer on your iOS and Android device. For instance, If you have logged PUBG on your iOS device with Facebook, then you see all Facebook friend playing PUBG on Android and iPhone. So, whether you are playing on an iOS device or Android, you can play PUBG mobile in cross-platform.
How to Play PUBG Mobile with Friends (Add Friends in PUBG Mobile)
Once after successfully installing PUBG mobile on your phone, you can add your Friends to play in the squad. Well, you can play with one friend or with three friends from PUBG mobile. Here's how to add friends in PUBG mobile on Android and iPhone.
Step #1: Launch the PUBG mobile on your smartphone.
Step #2: Next, tap on Friend icon at the left side of the screen.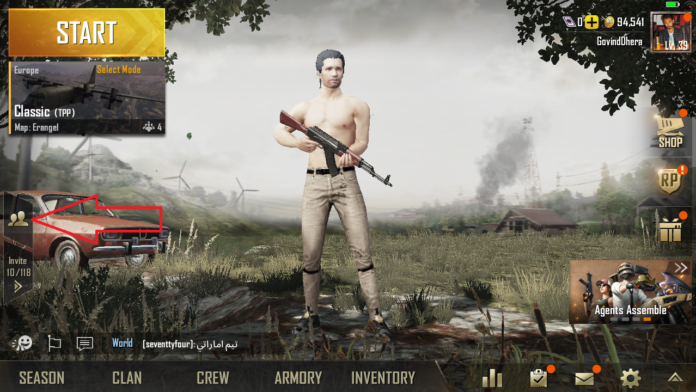 Step #3:  Now tap on "Add Friend" on the right side of the screen and search by name in AdHow to Play PUBG Mobile with Friends – Enter the Name 5vance search.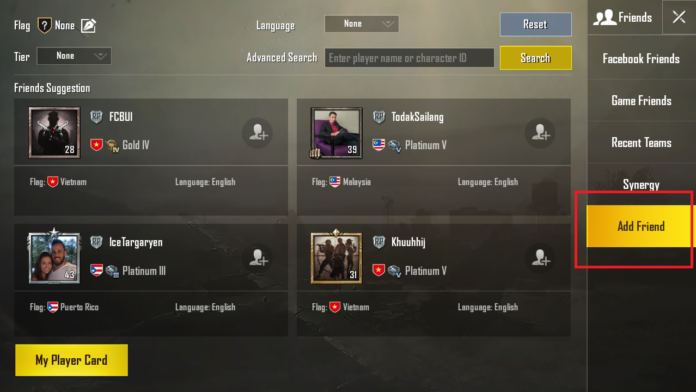 Step #4: Enter the name and hit the yellow Search button.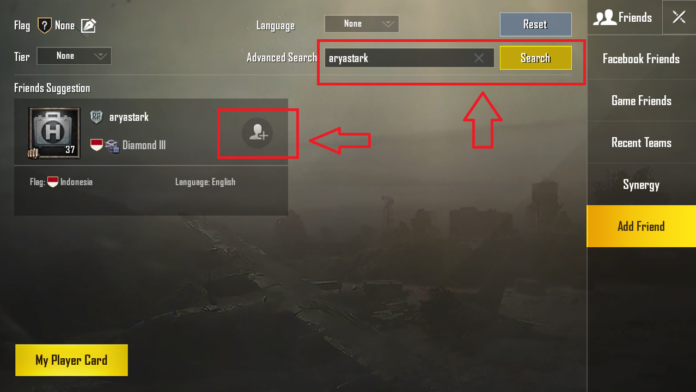 Step #5: Once you get the friend suggestions, tap on Add button next to the profile to a sent request.
Step #6: Type a message and hit the Send button to send the request.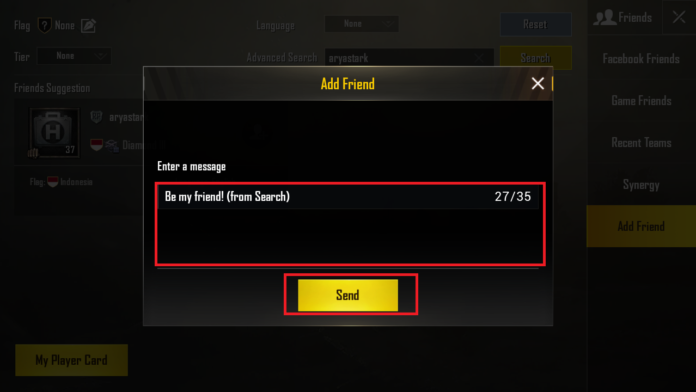 Step #7: Once they accept the request, you can add them from the Invite list once they come online and play with them.
How to Accept Friend Request in PUBG mobile?
If you get a request from your friends, then you will need to accept the request to play with them. You will see the friend request in the friend icon. Here's the process to accept the friend request in PUBG mobile.
Step #1: Open the PUBG mobile on your device.
Step #2: Tap on friend icon on the left side of the screen with a friend request.
Step #3: Now tap on Game Friend and then Request List.
Step #4: Here you need to tap Accept button next to your friend's profile to accept PUBG friend request.
How to Turn on Voice Chat on PUBG Mobile
To keep connected with your friends, you can use the PUBG mobile voice chat to keep on a conversation with your squad. With the PUBG mobile 0.7.0 updates, the voice chat feature has been clear and noise-free. To enable voice chat on PUBG mobile, you will need to tap on speaker and mic icon at the button on the home page and right top side when the game start.
How to Send Message to Your PUBG Mobile Friend
In the PUBG mobile, there is also an option to message your friend. So, if you want to message your friend to invite play PUBG with you, then here's how to message your friends in PUBG mobile.
Step #1: Open the PUBG mobile main menu.
Step #2: Next, tap on the friend list at the left side of the screen and select friend you want to message.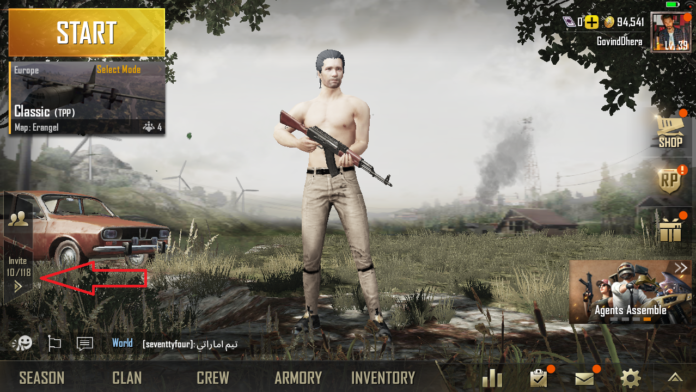 Step #3: Now tap on "Start a Chat", Enter the message and hit the Send button.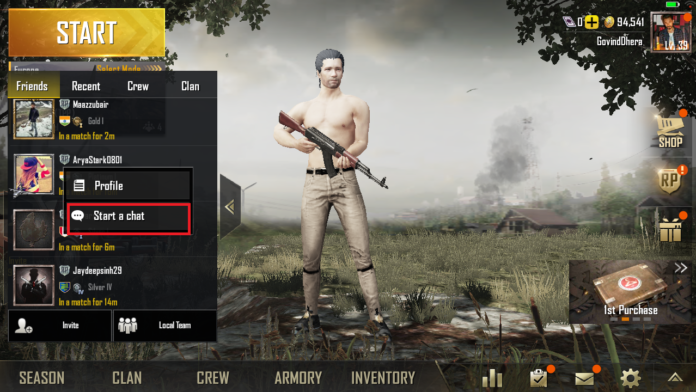 How to Select Solo, Due, or Squad play in PUBG Mobile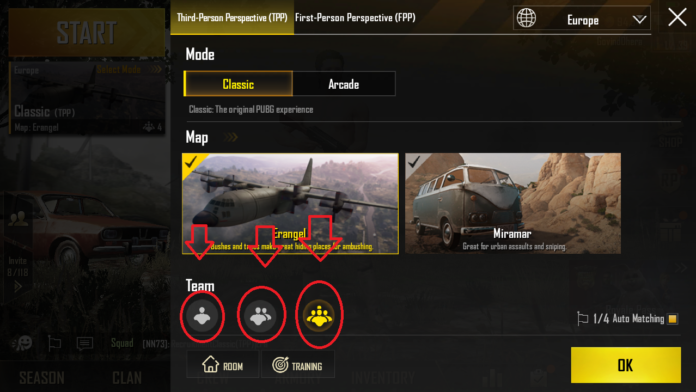 The PUBG Mobile allows up to four friend play together. You can also play Duo if you want to play with only one friend. Well, in the updated version of PUBG mobile, you can select Solo, Due and Squad mode by tapping on the Mode and select single, due, or squad person icon under the Team section on the pop-up screen as per your requirement.
How to Select TPP (third-person view) or FPP (first person view) Mode in PUBG Mobile?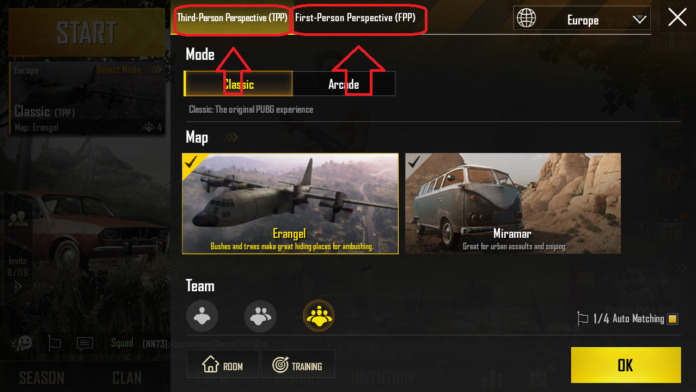 The PUBG Mobile June update included first-person view mode in the game. So, you can play PUBG mobile in FPP mode on your Android device. To choose TPP or FPP mode, you will need to tap on the mode on the main menu and select Third-Person Perspective (TPP) or First- Person Perspective (FPP) at the top of the pop-up screen. Here you can also select Classic and Arcade mode to play as per your choice.
Top 10 Best PUBG Mobile Tips & Trick You Should Know To Be The Last Man Standing
PUBG mobile is all among surviving in the long island by killing everyone else to get chicken dinner. But, there are some tactics and PUBG mobile tips you can follow to get Chicken Dinner.  Here are those:
 #1: Choose Mode Friendly Clothes
PUBG mobile is the game of survival where you have a battle against other players. So, when it comes to wearing cloth, you should keep in mind that it isn't a fashion show or party. You can choose the right clothes as per the mode you are playing. You can wear a sand colour t-shirt if you are going to play Miramar. Likewise, you can choose Erangle map friendly wild t-shirt so that your enemies can't track you easily.
#2: Choose Lower Competitive and More Loot Area
The first thing is to try to land in the area where fewer people jump and more weapons, consumables, and other necessary stuff available. It will help you to get every needed item quickly without being shot by other players. Personally, I prefer to land on Rozhok, Mylta Power, School in Erangle map.
#3: Follow Your Map Wisely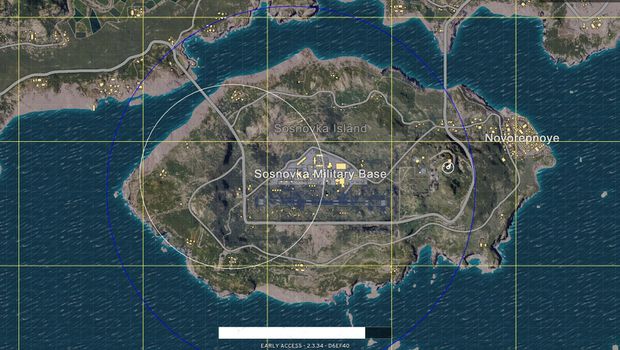 Once you start playing PUBG mobile on your smartphone, the left top corner side of the screen you will always see live map. This map helps you to track your enemies by gunshot and footsteps. And also, show you the blue and safe zone. So, also keep your eyes on the map.
#4: Enable Peek & Fire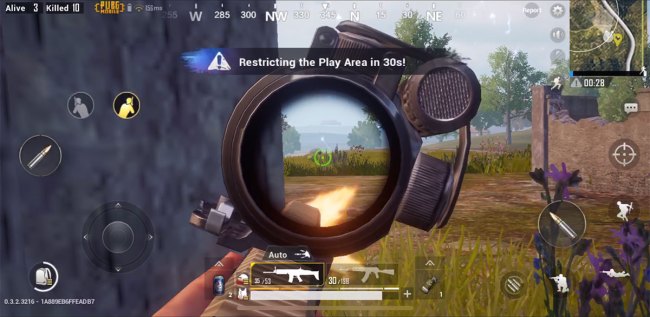 The Peek & Fire feature is not enabled by default in the game. You have to turn it in the Basic setting to play by just revealing your head to shot by hiding your full body. Once you activate Peek & Fire, you will see two upper body icons at the left side of the screen.
#5: Use Headphones and Connected With Your Squad
To get a better sound of gunshot and enemy footstep, we suggest you always use headphones while playing the game with or without a squad. It will give you the bright idea about from where the gun triggered to track the enemy. Also, you can use headphone to keep communicating with your squad to make strategies and plans to play like a team to get chicken dinner.
#6: Keep Moving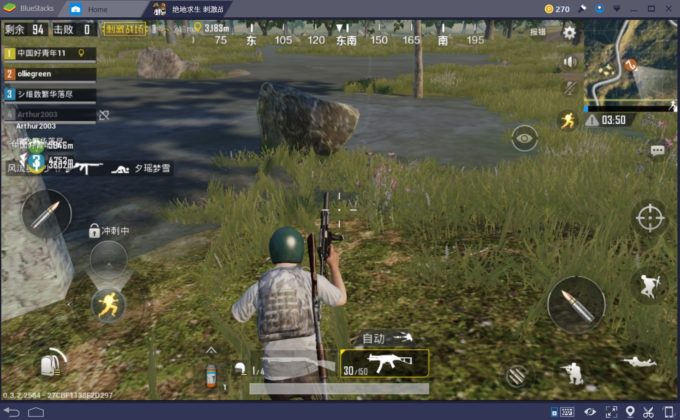 Do not stick to one point; it will give other players a perfect headshot of you. So, try to keep moving to avoid getting killed. There are a lot of snipers roaming around you, so keep moving by taking good covers. It will help you to survive for long.
#7: Avoid Gun Fights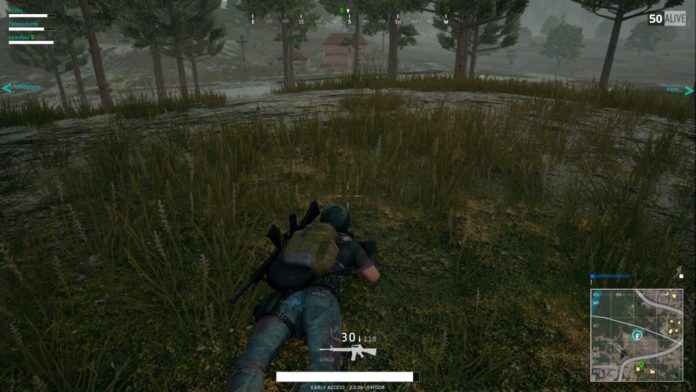 Sometimes, involving in other fights won't the right choice. You may get killed in the battle. So, you need to take your action correctly. If you hear two groups or persons are fighting, then hiding is an excellent idea. After that, you can kill the reaming one. Agree?
#8: Silencers Are Good Friends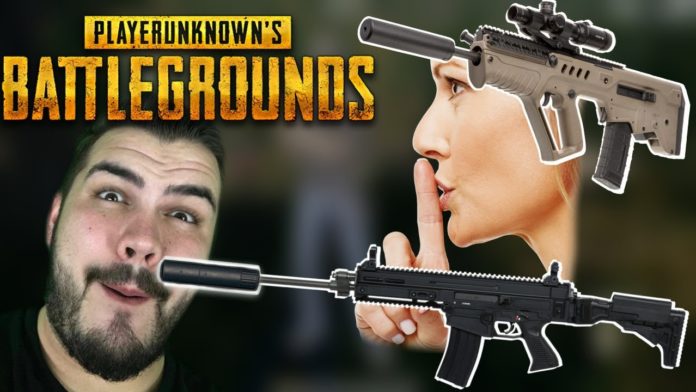 In the PUBG mobile game, there are differently typed of guns available-AR, Sniper, SMG, etc. When pressing the trigger to shoot someone, it makes noise, and you will get easily tracked. Therefore, there are silencers are available for different type of weapons.  So, once you found a suitable silencer for your gun, just attacked it on your weapon to kill rivals silently.
#9: Lie Down While Looting Enemy Crates
Once you kill someone, for you would want to raid the crate, right? So, our advice is always raid crates while being lying down so that your enemy can locate you even if they see the green light popping on the person you have just killed.
#10: Prefer To Play On The Edge
If there are only two or three circles left, then try to play on the edge. It will give you the unobstructed view of the whole ring especially if you have 4x or 8x scope. It also minimizes the chances of getting killed from behind.  Therefore, always prefer to play on the edge of the play zone where our blue line is near to the white.
Finishing
This was all about PUBG mobile on your Android and iPhone. Hope here you have got everything about the PUBG mobile apk. The lot more are coming in upcoming PUBG mobile updates. Till then, keep playing PUBG mobile.
Happy Playing!
Articles on PUBG Mobile