Poster Writing Class 12 Format, Examples, Samples, Topics
A Poster is a large notice announcing or advertising something. It generally creates social awareness about any problem or needs. It also conveys a social message in an eye-catching way.
♦ Main Features of a Poster
Layout: A creative title in the form of a slogan or rhyming words.
For example, Speed thrills but kills; Pollution needs a solution; Green is clean.
You can use Match Stick figures for illustration.
Proper spacing and proportionate headings and illustrations.
Date, time and venue must be mentioned in case of an event.
A poster displays a message or an appeal to create awareness.
The content should be organised in an appropriate style.
Use appropriate expressions and correct language.
The theme should be clear.
The poster should be creative and related to the content and theme should not be vague.
Do not spend much time on illustration. Written language and expressions will only help you score better.
Name of the issuing authority or the organizers is a must.
♦ Previous Years' CBSE Examination Questions
♦ Short Answer Type Questions
Question 1.
Your school, Kendriya Vidyalaya, Burdwan is going to organise a Diwali Mela. Design a poster to inform the students about various activities connected with it. Ask them to participate in the Mela. You are Divya/Dewan. (Comptt. Delhi 2010)
Answer: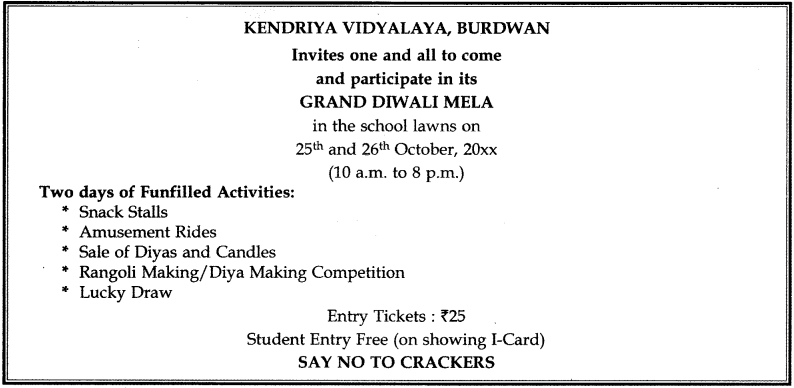 Question 2.
As President of Lion's Club of Vasundhra City, design a poster in not more than 50 words for . promoting good health through 'Health Mela' to be held at Central Community Hall of the city. Mention some of its attractions. (Comptt. Delhi 2011)
Answer: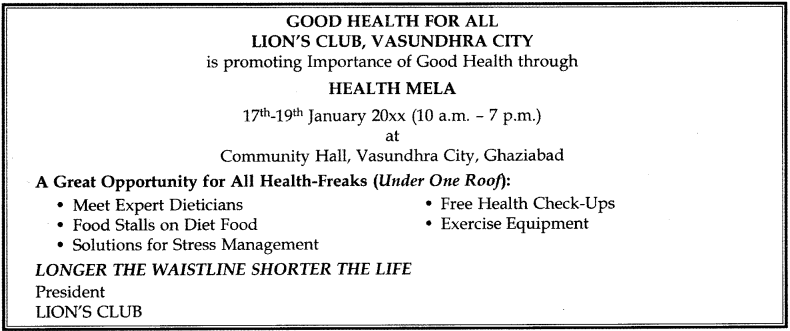 Question 3.
As President of the Residents Welfare Association of Mayur Colony, Delhi, design a poster in not more than 50 words for promoting cleanliness in the surroundings of your colony. (Comptt. Delhi)
Answer:

Question 4.
Prepare a poster in not more than 50 words on kindness to animals to be displayed in the city at public places appealing to people to show kindness to animals. You are Secretary of the Society for Prevention of Cruelty to Animals, Delhi. (Comptt. All India 2011)
Answer: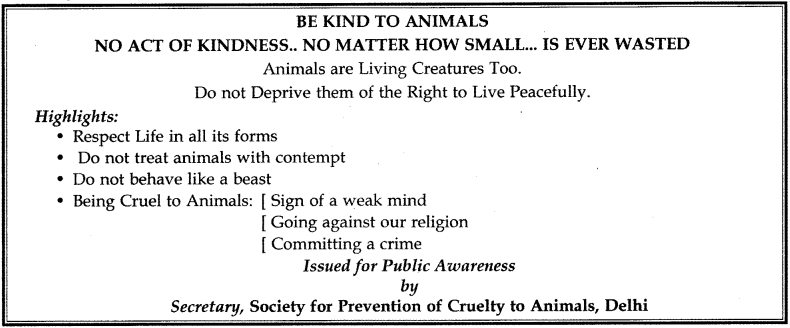 Question 5.
You were very upset about the reports on communal riots in various parts of the country. As a concerned social worker, design a poster in not more than 50 words, highlighting the importance of communal harmony. You are Vinay/Vineeta. (Comptt. All India 2014)
Answer:


Question 6.
You are a member of the S.P.C.A. Draft a poster in not more than 50 words, to create awareness on the need to prevent cruelty to animals. You are Suhas/Suhasini. (Comptt. All India 2014)
Answer:

Question 7.
You are a fitness trainer in a health club. Design a poster in not more than 50 words, to emphasize the importance of exercise in maintaining mental and physical fitness. You are Prem/Priya. (All India 2014)
Answer:

Question 8.
Fireworks and crackers are known to create pollution during festivals. As an environ-mentalist design a poster in about 50 words to create awareness of their ill effects. (Comptt. All India 2015)
Answer:

Question 9.
Design a poster in about 50 words to create awareness among the people of your city on the importance of following traffic rules. (Comptt. All India 2015)
Answer:

Question 10.
Your school is going to organise a Diwali Mela. Design a poster to inform the students about it (50 words). (Comptt. Delhi 2015)
Answer:

Question 11.
Draw a poster on the importance of cleanliness in our life. (Comptt. Delhi 2015)
Answer:

Question 12.
Open drains are death traps, risky for old persons and children. They are also breeding grounds for rats, cockroaches etc. Design a poster highlighting the danger of open drains. (Comptt. All India 2015)
Answer:

Question 13.
Publicly we proclaim that dowry is an evil. Privately we want out sons to fetch good dowries. Right from our school days we should be taught that demanding and even giving dowry is not only illegal but immoral too. Draw a poster in about 50 words highlighting dowry as a curse. You are Vikram/ Sonia. (All India 2017)
Answer: